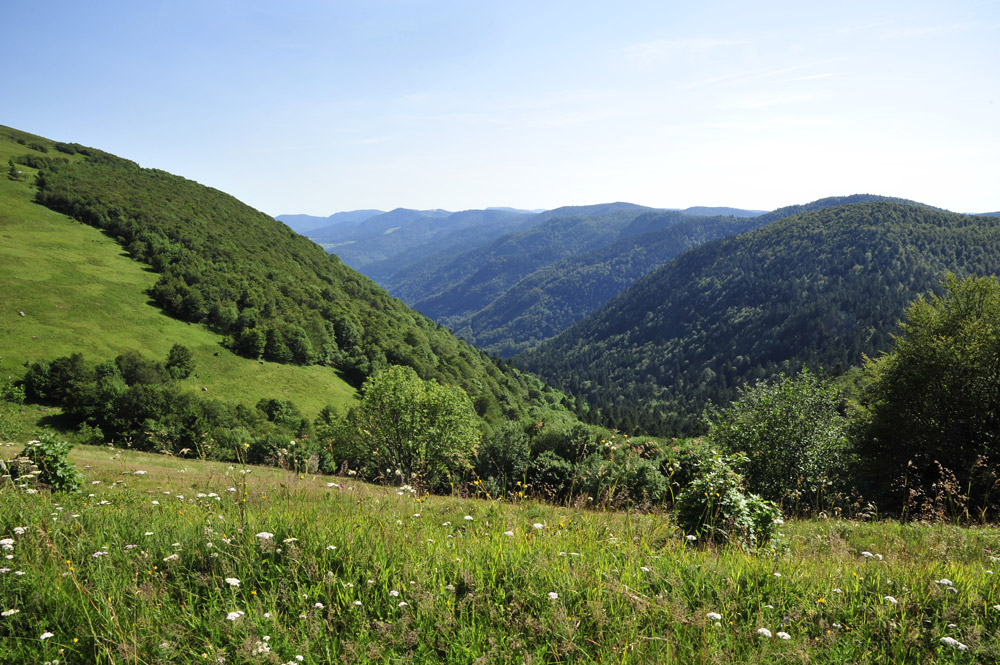 Ermitage, a local player for over 90 years
In the Grand Est and Bourgogne Franche-Comté regions
Ermitage is developing in the Grand Est and Burgundy Franche-Comté regions with the aim of preserving its independence and ensuring the best possible value for the milk of the cooperators who place their trust in it. Always independent, its organisation is based on strong values: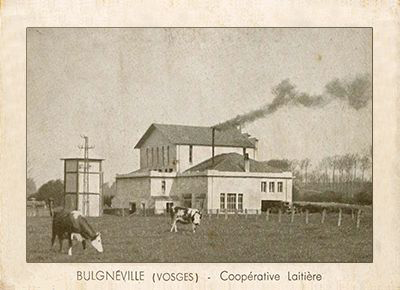 Authenticity
Now representing 211 milk producers, Ermitage Cooperative has grown considerably but its mission has not changed! As an economic player in the region, it promotes and preserves the region's terroir and cheese heritage. Since its creation, its authenticity and know-how remain intact. Ermitage also produces cheeses with the Appellation d'Origine Contrôlée label. It is also the only remaining producer of Carré de l'Est, square in shape and Eastern in origin.
Ermitage has a terroir, know-how and fantastic products, thanks to passionate and committed breeders and employees!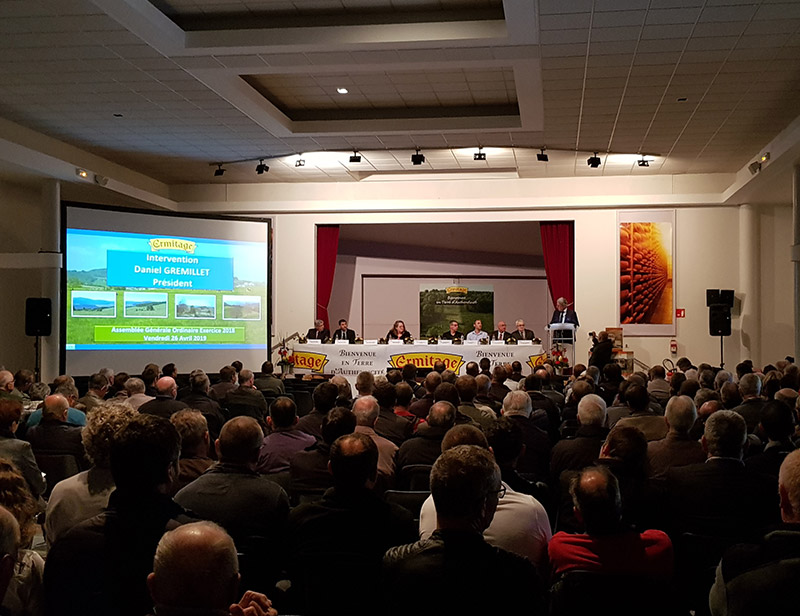 Family spirit
Ermitage brings the Group's cooperators and employees together in all their diversity. The strength of Ermitage is its collective: its cooperators make decisions together and thus protect their interests. The Ermitage Cooperative delights in bringing together complementary personalities and know-how.
Today, Ermitage provides a living for more than 1,500 families in the Grand Est and Burgundy Franche-Comté regions.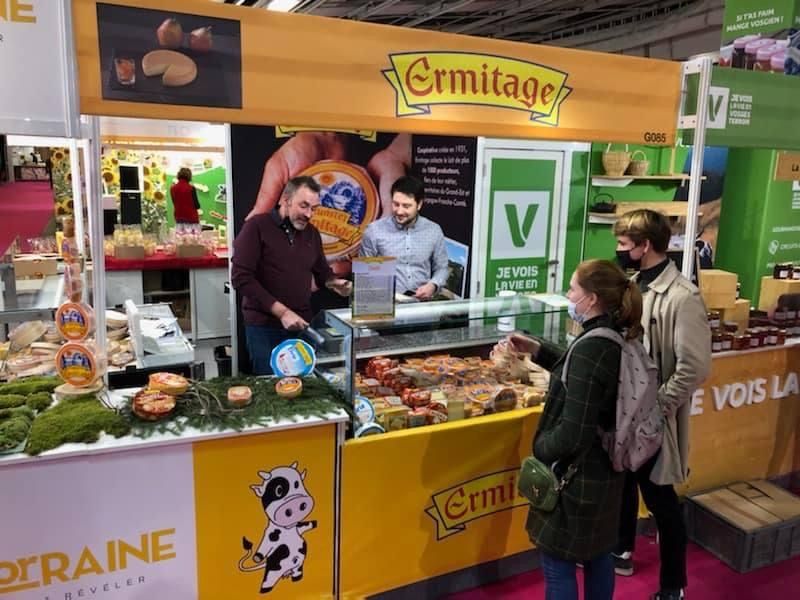 Solidarity and sharing
The cooperative members of the Ermitage Group pool their production, processing and marketing resources and share the fruits of the cooperative's labours in the same way, while collectively assuming the risks. Today, more than 1000 cooperators and milk producers are still the sole shareholders of Ermitage Cheese Producers.
Ermitage is also committed to preserving the activity and income of its cooperators and to providing consumers with good cheeses at affordable prices.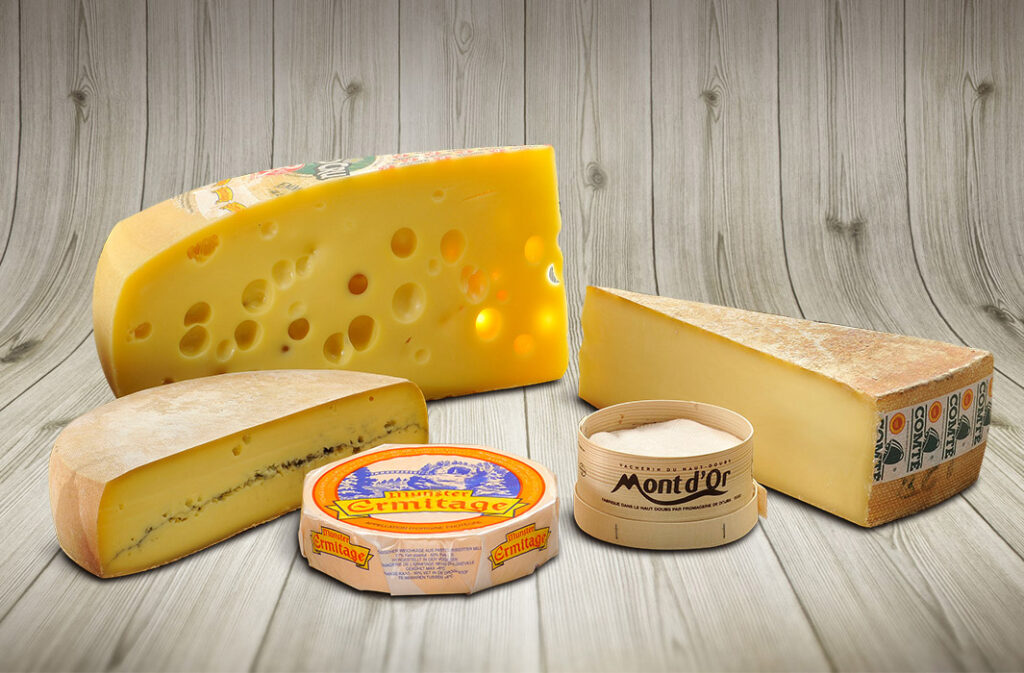 Naturalness & Cheese Diversity
At Ermitage, nature dictates the law. Ermitage cheeses are produced in the Vosges and in Franche-Comté, two regions that are geographically close and that have managed to preserve their nature, made up of meadows, rivers, forests and surrounded by mountain ranges. As part of its natural approach, Ermitage favours only the four ingredients necessary to produce its cheeses: milk, salt, ferments, and coagulating enzymes.

Faithful to tradition, Ermitage cheeses preserve all the authenticity and flavours of the Grand Est and Burgundy Franche-Comté regions – a history and a tradition for gourmet cheeses, naturally!