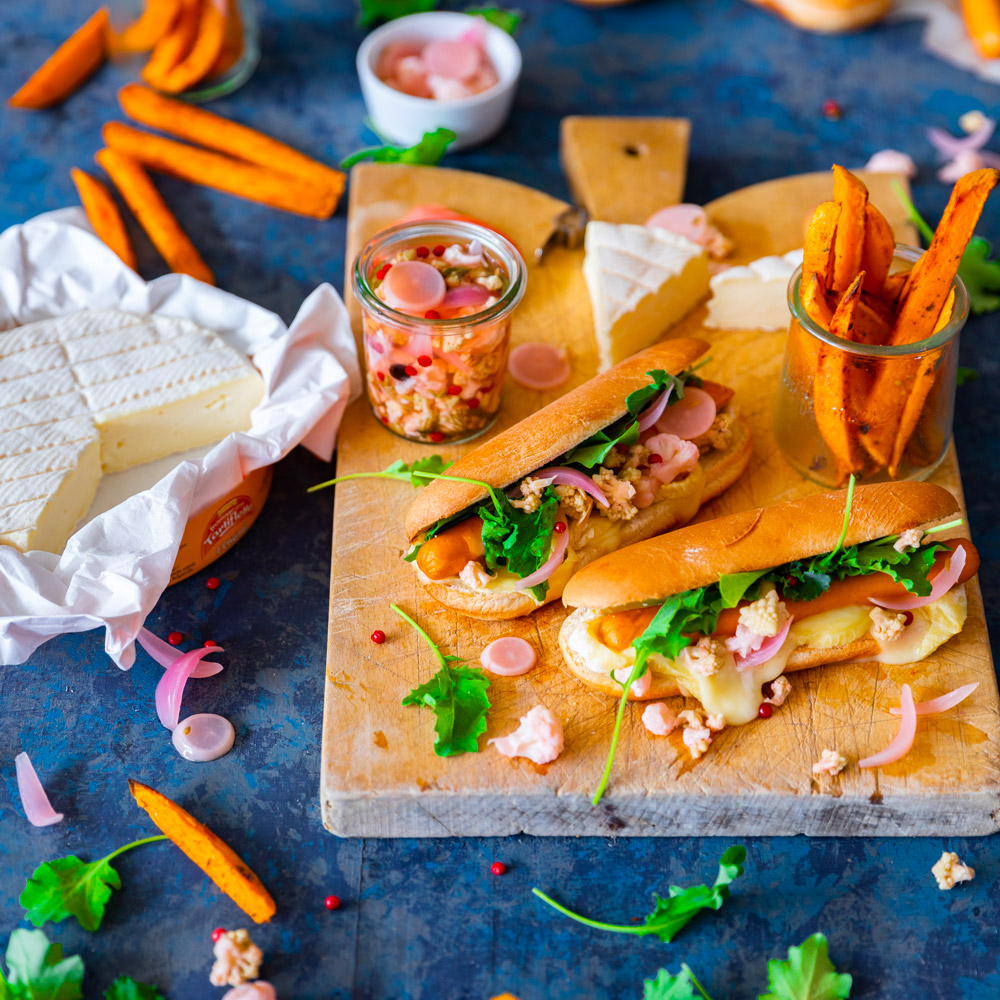 Vegetarian hot dog with Tartiflette cheese & sweet potato fries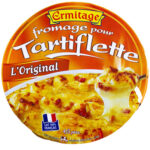 Ermitage cheese used : Tartiflette cheese
Ingredients
A cheese for Original Ermitage tartiflette

1 small red onion

Some cauliflower

Some romanesco cabbage

Some radish

A dozen or so pink berries

3 juniper berries

2 cloves of garlic

2 sprigs of dill

2 sheets of laurel

1 teaspoon of seeds fennel

35cl of water

20cl of vinegar

30g of granulated sugar

2 sweet potatoes

2 teaspoons of paprika

A little bit of olive oil

Salt

Pepper

4 hot dog buns

4 vegetable sausages

2 handfuls of young kale

Ketchup sauce

Mustard
Preparation
PICKLES – to be prepared a few days in advance
Cut the onion into strips, cut the cabbage into small pieces and slice the radishes.
Mix the vinegar, sugar and water in a saucepan. Add the pink peppercorns, juniper berries, cloves of garlic (unpeeled) and bay leaves. Bring everything to the boil. Add the chopped vegetables and cook for 45 seconds.
Place the dill sprigs in sterilised jars. Add the vegetables, filling to two-thirds, then cover with the boiling vinegar/water/aromatic mixture. Close the jars tightly, allow to cool and store in a cool place.
SWEET POTATO FRIES
Peel the sweet potatoes and cut them into sticks. Place them in an airtight container, add the paprika, pour in 2-3 tablespoons of olive oil, and season with salt and pepper. Close the box and shake so that each fry is coated with paprika and olive oil.
Arrange the chips on a baking tray lined with baking paper, making sure they do not touch. Bake for 40 minutes at 180°C (gas mark 6), turning halfway through the cooking time.
HOT DOGS
Cook the vegetable sausages in a pan of water for 4-5 minutes and then drain.
Cut your hot dog buns in half. Brush the inside with a little English mustard and ketchup. Place a generous slice of tartiflette cheese on top. Place in the oven for 5 minutes to melt the tartiflette cheese (feel free to put it in the oven at the same time as the sweet potato fries).
As soon as the cheese has melted, place a sausage inside each bun. Add a handful of young kale. Arrange the vegetable pickles on top.
Serve with sweet potato fries.