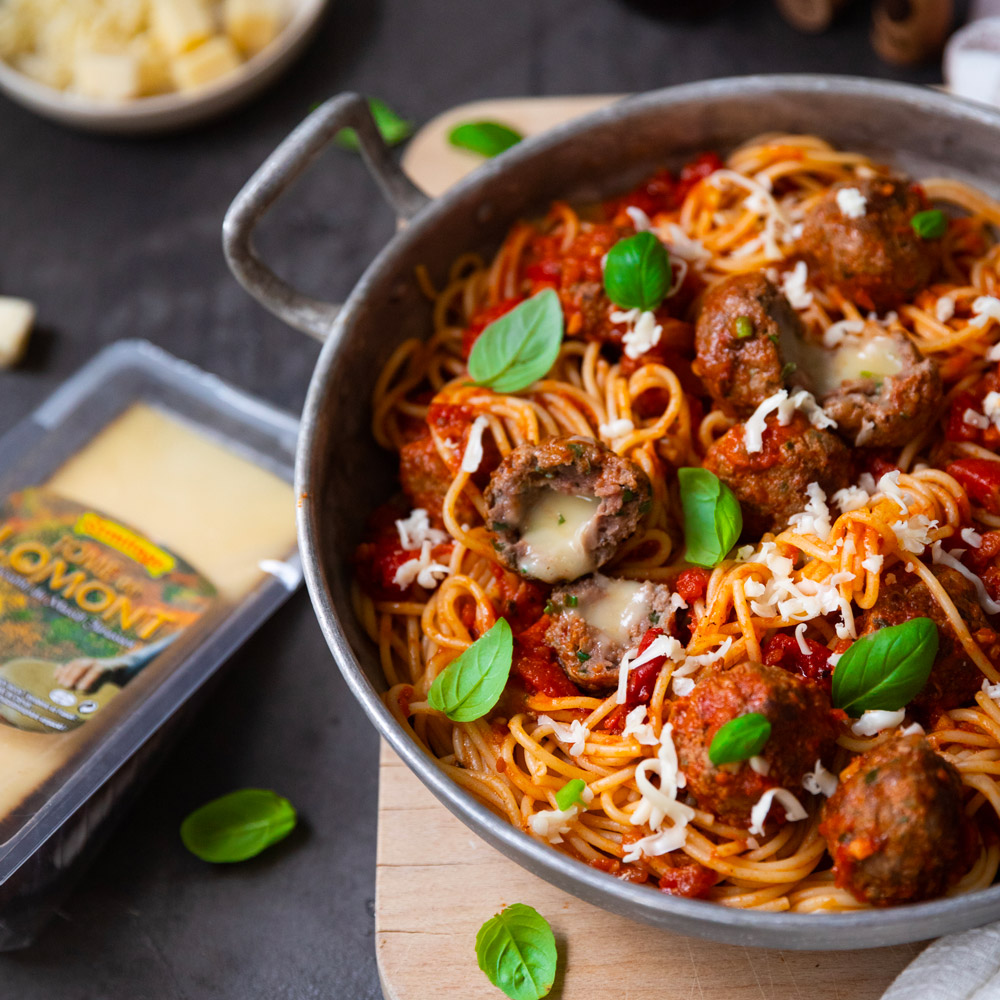 Spaghetti with tomato sauce, and meatballs with a core of Tome du Lomont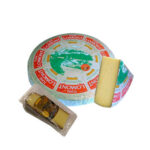 Ermitage cheese used : Tome du Lomont
Ingredients
200g of Tome du Lomont

4 onions

4 cloves of garlic

600g of crushed tomatoes

1 sheet of laurel

A few sprigs of fresh thyme

A little bit of olive oil

A little bit of rosemary

1 piece of sugar

500g meat ground beef

2 slices of stale breads

10cl of milk

1 egg

400g of spaghettis

Salt

Pepper

Sheets of fresh basilic
Preparation
Sauté the chopped onions and garlic cloves until translucent. Add the chopped tomatoes and a glass of water.
Season with salt, pepper and the sugar cube which will combat the acidity of the tomato. Make a bouquet garni with the bay leaf, thyme and rosemary and add it to the sauce. Simmer for at least 30 minutes. The longer the sauce simmers, the more flavourful It will become.
Keep an eye on the cooking process, adding a little water if the sauce sticks to the bottom of the pan.
Soak the bread in the milk for 10 minutes, then crumble it. Finely chop the spring onions and the garlic clove. Mix the meat with the milk bread, onions, chopped garlic, egg, salt and pepper.
Cut 100g of Tome du Lomont into cubes of about 1-1.5cm. Form a meatball with the meat and place the Tome du Lomont in the centre. Start again.
Fry the meatballs in an oiled pan until they are coloured. Lower the heat, add the tomato sauce and cook for 10 minutes.
Cook the spaghetti according to packet instructions.
Drain the spaghetti, add the meatballs, mix and arrange on plates. Add fresh basil and 100g of grated Tome du Lomont cheese.