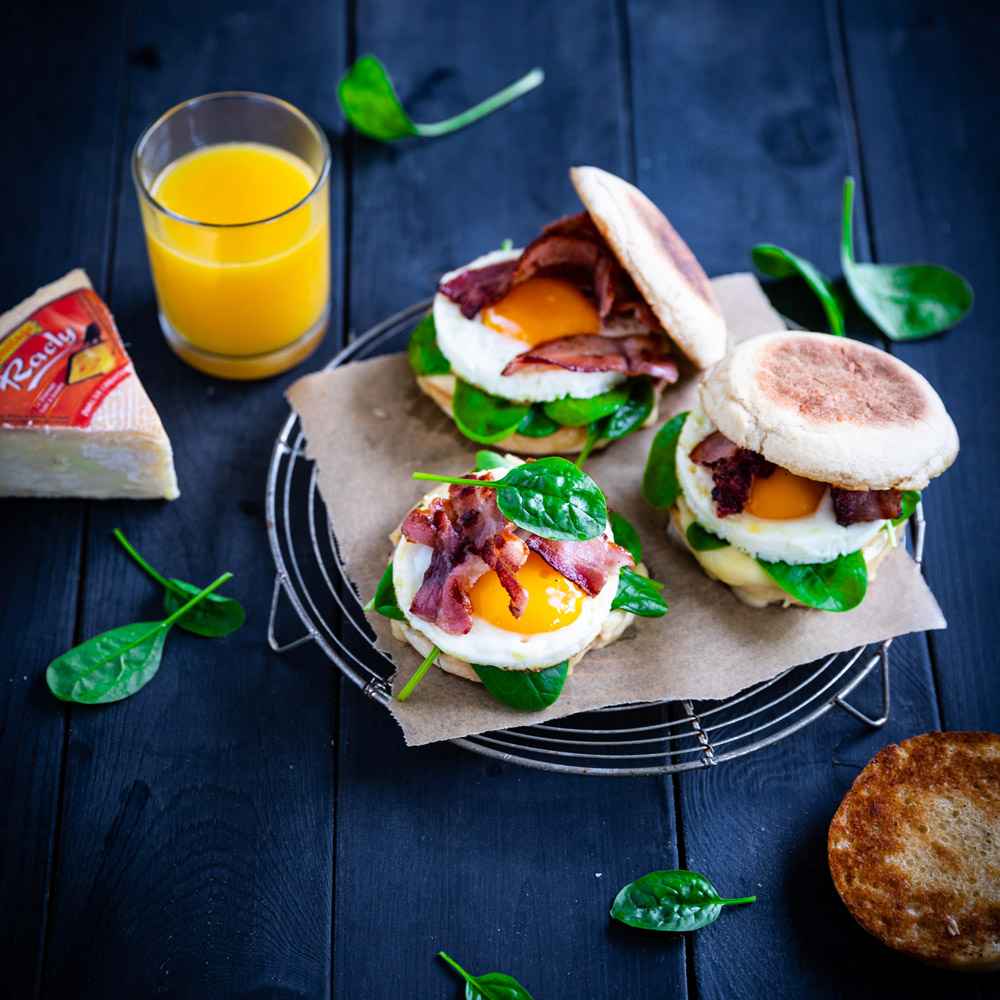 Racly Egg Muffins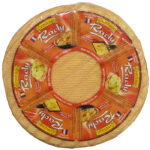 Ermitage cheese used : Racly
Ingredients
120g of Racly Ermitage

350g of wheat flour

20cl of milk

10g of fresh baker's yeast

40g of softened butter

1 tablespoon of granulated sugar

6g of Salt

A little semolina wheat

4 eggs

about 50g of butter

8 thin slices of bacon

Leaves of spinach

Pepper
A little bit of
Prepare the English muffins. Mix the flour, sugar and salt in a food processor. Warm the milk, add the yeast, mix, then pour over the flour and knead for 4-5 minutes on speed 1. When a dough forms a ball, add the butter and knead for a further 5 minutes.
Flour a work surface, form the dough into a ball and leave to rise for 2 hours in a bowl. The dough should double in volume.
When the dough has doubled in size, flour the work surface with the wheat flour and roll out the dough to 1-1.5cm thick.
Cut circles with an 8cm cookie cutter. Cover with a cloth and leave to rise for 30 minutes.
Heat a large frying pan over low heat. Bake the muffins for 5 minutes on each side. They should be well browned. Leave to cool on a wire rack. Keep 4 for the recipe, the rest can be stored in an airtight box for 2 days or in the freezer for 3 months.
Preheat the oven to 200 °C. Wash the baby spinach.
Butter the inside of four 8cm diameter metal cookie cutters. Heat a frying pan over low heat. Add a little butter, arrange the cookie cutters, break the eggs into each cookie cutter. Cover and leave to cook for a few minutes.
While the eggs are cooking. Cut the muffins in half, butter the inside of each side, then brown them in a pan. Place the 4 bases on a sheet of baking paper (keep the muffin top aside). Add a generous slice of Racly cheese on top and bake for 3-4 minutes until the Racly cheese melts.
Cook the bacon slices in a pan for 4-5 minutes. They should be golden brown and crispy.
Remove the muffins from the oven, place a few spinach shoots on top of the Racly. Add one egg (gently remove it with a small knife if necessary), season. Add the bacon cut in half and place the top back on.