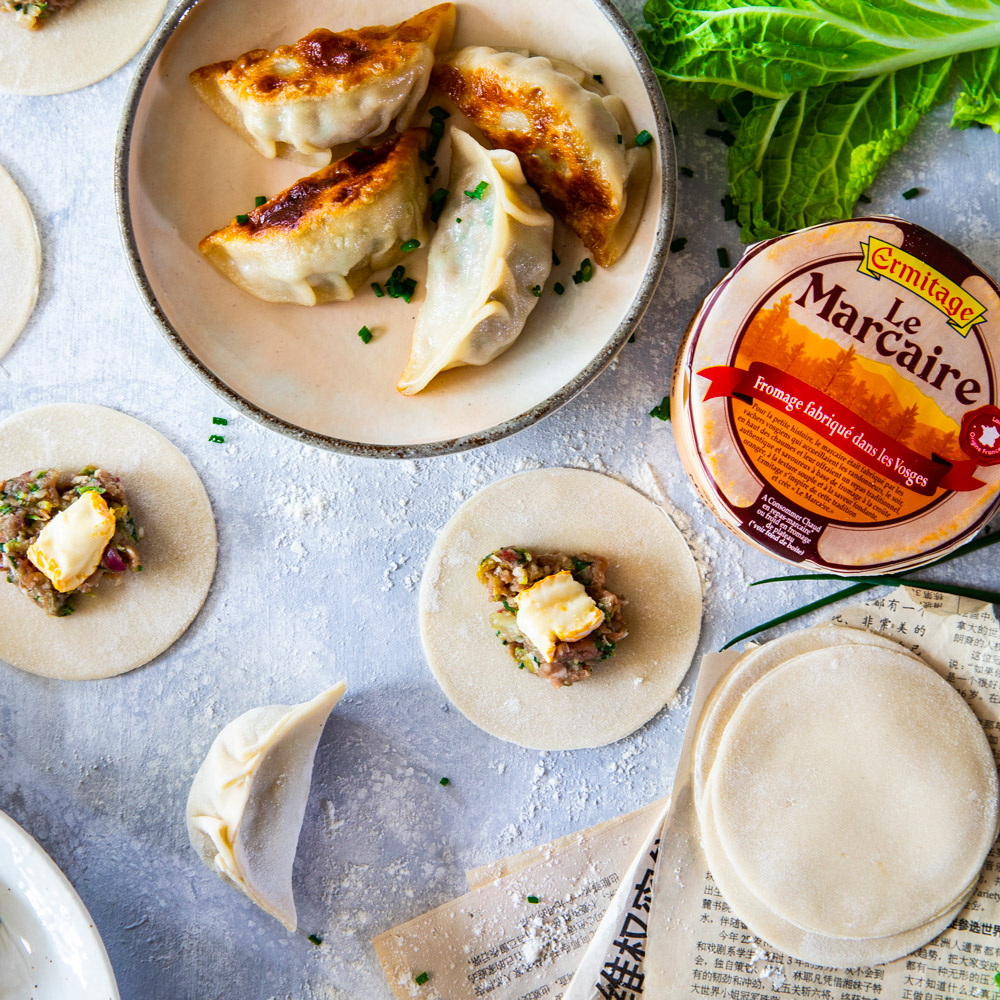 Pork and Marcaire Gyoza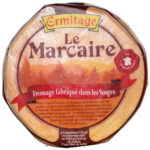 Ermitage cheese used : Marcaire des Vosges
Ingredients
200g of Marcaire Ermitage

240g of wheat flour

140g of hot water

3g of Salt

300g of minced pork

1 bunch of chive

1 clove of garlic

A piece of finely grated ginger

From the soya sauce

1 small onion

A little bit of olive oil

Pepper

1 tablespoon of rice vinegar

1 teaspoon of oil sesame
Preparation
THE PASTE
Heat some salted water.
Pour the sifted flour into a large bowl, make a well and pour in the water little by little while stirring. Mix until you have a soft, smooth paste. Knead for 5 minutes. Work the dough into a ball, wrap it in film and chill it. Leave to rest for 1 hour.
Generously flour your work surface. Cut the dough ball into 4 pieces. Roll out the first piece to a thickness of 1-2mm. Cut out dough rounds of about 7cm in diameter, flour well and set aside. Repeat the process with the remaining pieces of dough.
STUFFING AND PREPARATION
Finely chop your Chinese cabbage (discarding the core). Place it in a bowl and add a little salt. Leave to stand and squeeze out as much water as possible.
Finely chop the onion and chives, mince the garlic clove and ginger.
Mix the minced meat with the cabbage, garlic, onion, ginger and chives. Season with pepper and soy sauce.
Flour your work surface, take a disc of dough, place a teaspoon of filling in the centre, place a 2cm cube of Marcaire on top. Slightly moisten the edges of the disc, fold it in half, pinch the first edge, make a fold, then another fold and so on until you have 4 to 5 folds. Then seal the gyoza completely.
Set aside on a floured work surface.
Heat an oiled pan. As soon as the oil is hot, fry the gyozas for 1-2 minutes: the dough should be golden brown. Pour water into a pan (a little less than halfway up the gyozas) and cover quickly to steam the gyozas.
Prepare the sauce by mixing together the soy sauce, rice vinegar and sesame oil.
Gourmet tip
Serve warm so that the Marcaire is gooey.