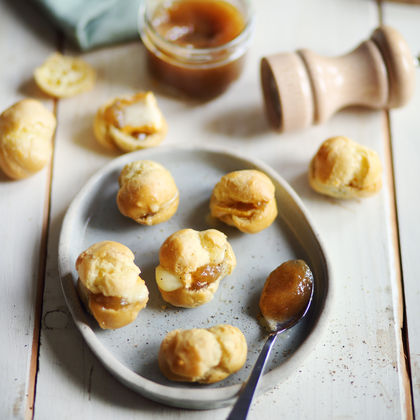 Petit Choux with Carré Roussot and rhubarb chutney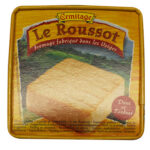 Ermitage cheese used : Carré Roussot
Ingredients
½ Carré Roussot Ermitage

30g of butter

12.5cl of water

60g of wheat flour

2 eggs

250g of rhubarb

90g of granulated sugar

½ onion

5cl of balsamic vinegar
Preparation
Choux pastry
Bring the water and butter to the boil.
Remove from the heat and add all the flour.
Stir with a wooden spoon until the water is absorbed, then return to a low heat.
Stir constantly until the dough forms a ball that comes away from the side of the pan.
Pour the dough into a bowl, let it cool and then add an egg. Mix until it is completely incorporated into the dough before adding the second egg.
Using a piping bag, pipe the mixture onto a baking tray lined with baking paper.
Bake at 180°C (gas mark 6) for 25 minutes.
The garnish
Place the rhubarb, chopped onion, sugar and vinegar in a saucepan and cook over medium heat for 45 minutes.
The assembly
Cut the choux pastries in half.
Add a small spoonful of chutney and a piece of Carré Roussot.
Reseal the choux.
When ready to serve, reheat the choux for 5 minutes at 180°C (gas mark 6) until the cheese has melted.
Gourmet tip
You can blend the chutney to make it smooth!