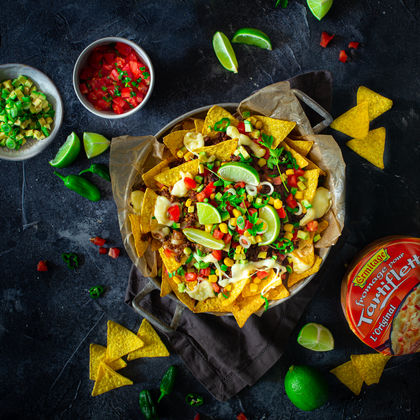 Nachos with melted Tomme de Franche Comté cheese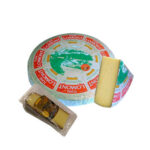 Ermitage cheese used : Tome du Lomont
Ingredients
100g of Tome du Lomont

150g of tortillas

10 cherry tomatoes

1 handful of black olives

200g of red beans

1 onion

1 jar of guacamole

½ lime

A bit of chive
Preparation
Finely chop the onion.
Grate the Tomme de Franche Comté cheese
Place the tortilla chips in a baking dish.
Divide the halved cherry tomatoes, olives, kidney beans, onion and cheese among the dishes.
Preheat the oven to 180°C (gas mark 6) and bake for 15 minutes.
As soon as you take the dish out of the oven, place some guacamole in the centre of the dish.
Drizzle with lime juice and add chopped chives.
Gourmet tip
To enjoy this dish easily, pull out a crisp and dip it into the guacamole.