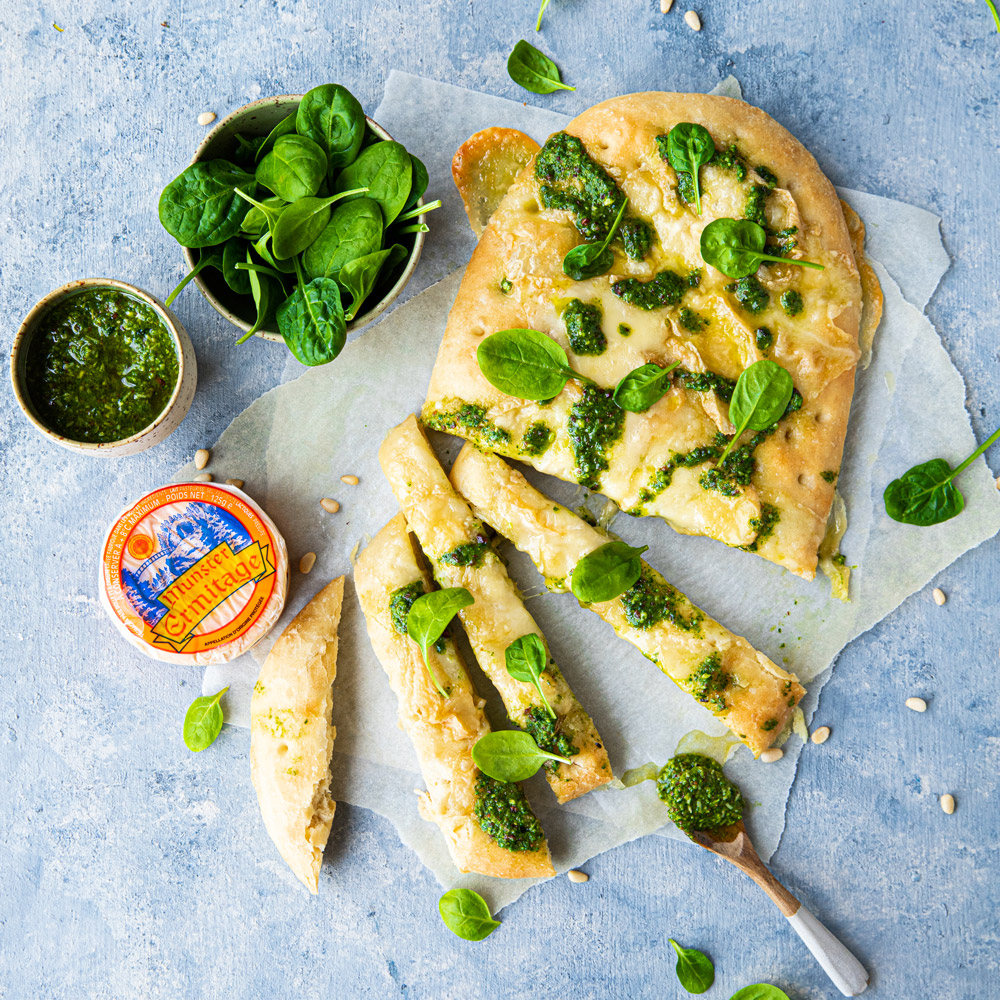 Munster and spinach pesto focaccia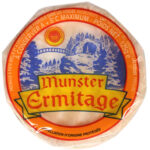 Ermitage cheese used : Munster
Ingredients
200g of Munster Ermitage

250g of wheat flour

10g of fresh baker's yeast

5g of Salt

1 teaspoon of granulated sugar

23cl of olive oil

150cl of water

70g leaves of spinach

40g of bread pine nuts

50g of freshly grated parmesan

1 small clove of garlic

Salt
Preparation
Prepare the focaccia dough. Mix the flour with the crumbled yeast and the sugar. Pour in 5cl of olive oil, then the water. Knead roughly. Add salt. Knead the dough for 5 minutes in a food processor or 10 minutes by hand to obtain a soft and elastic dough. Work the dough into a ball. Place in a container, wrap or cover with a damp cloth and leave to rise for two hours until the dough has doubled in size.
Prepare the pesto: mix the spinach leaves after washing and drying them, with a little olive oil and salt. Add the lightly roasted pine nuts, the garlic, a little oil and mix. Add the parmesan and the rest of the olive oil.
Preheat the oven to 190°C (gas mark 6). Flour the work surface. Roll out the dough to a thickness of just under 1cm. Place on a baking tray lined with baking paper. Prick it all over with your fingers (without putting holes in it). Leave to rise for about 20 minutes.
Oil the focaccia with the remaining oil. Season with salt and pepper and place slices of Ermitage Munster cheese on top. Bake for 15-20 minutes.
When the focaccia is cooked, pour a little pesto on the surface.
Gourmet tip
Taste while the focaccia is still warm, to ensure the Munster is very gooey!