Morbier cheese cookies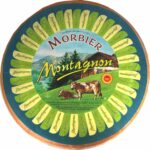 Ermitage cheese used : Morbier
Ingredients
70g of morbier Ermitage

100g of wheat flour

80g of butter

5 tablespoons of liquid cream

Sea Salt
Preparation
Put the flour, diced Morbier cheese and diced butter in a bowl.
Crumb using your hands. Add the cream and a pinch of sea salt. Knead until you get the ball comes together.
Scoop out a spoonful of dough and flatten it into a cookie shape. Place on a plate. Repeat. Sprinkle with sea salt.
Bake for 15 minutes at 200°C (gas mark 7).