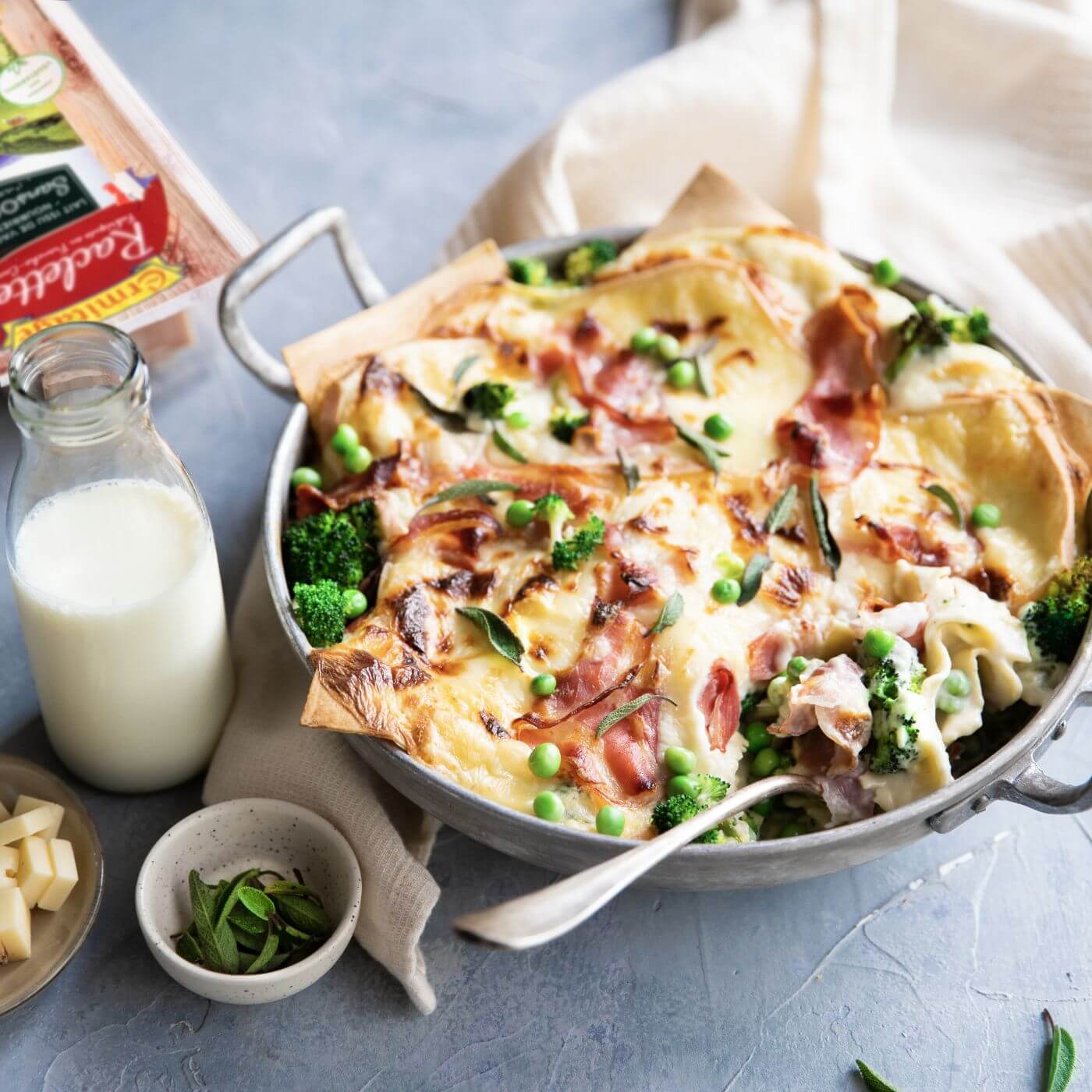 Lasagne with raclette, broccoli, peas and pancetta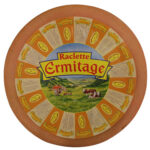 Ermitage cheese used : Raclette and raclette cheese
Ingredients
250g of Ermitage smoked raclette cheese

250g of pasta lasagna

1 head of broccoli

250g of peas

10 slices of pancetta

70cl of milk

70g of butter

60g of wheat flour

Salt

Pepper
Preparation
Preheat the oven to 190°C.
Cut the broccoli into pretty florets and wash the florets. Peel the stem and cut into small cubes.
Bring a large pot of salted water to the boil. Cook for 2 minutes. broccoli stalk cut into cubes. Add the florets and peas for 5 minutes. Stop cooking by plunging into ice water. Drain well, coarsely chop the broccoli florets and set aside.
Prepare a béchamel sauce: heat the milk in a saucepan with the sage. As soon as the milk comes to the boil, turn off the heat. Let the sage steep.
Remove the sage and reheat the milk. Melt the butter in a saucepan. Add the flour, mix and cook for 1-2 minutes on a low heat without stopping to stir. Add the milk little by little, mixing well each time. Cook over a low heat without stopping to stir for 5 minutes. Season to taste.
Mix the peas and broccoli with the béchamel sauce. Set aside ¼ of the béchamel sauce.
Place 2 tablespoons of béchamel sauce in a baking dish. Arrange the lasagne sheets on top. Cover with the broccoli/pea béchamel mixture, add the equivalent of 2 slices of raclette cheese and 2 slices of chopped pancetta. Repeat this twice. On top of the third layer of broccoli/peas/bechamel, cover with the lasagne sheets. Spread the remaining raclette cheese, the pancetta and cover with the béchamel sauce.
Bake for 50 minutes until the lasagne is golden brown.
Gourmet tip
You can add fresh sage to give your lasagne even more flavour!