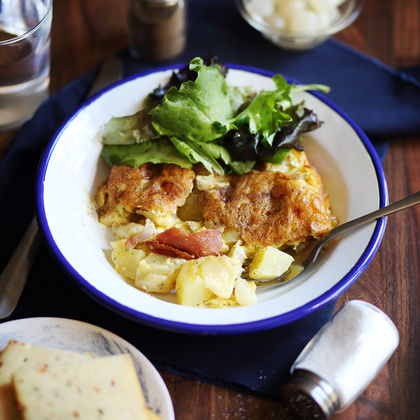 Flavoured raclette tortilla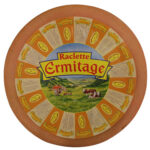 Ermitage cheese used : Raclette and raclette cheese
Ingredients
5 slices of Ermitage Italian raclette cheese

8 eggs

4 potatoes

6 pickled onions

2 slices of white ham

Salt

Pepper
Preparation
Pour the potatoes into a saucepan. Cover with water and cook for 25-35 minutes. The tip of the knife should be easily inserted.
Drain and allow to cool before peeling and cutting into pieces.
Whisk the eggs in a bowl.
Cut the onions in half and add them to the eggs, together with the potatoes and the chopped raw ham.
Cut the raclette cheese slices into cubes and add them.
Lightly salt the eggs and add pepper.
Heat a large frying pan with a little fat over a low heat.
Add the tortilla and cook for 5 minutes on a low heat.
Cover and continue cooking for 5 minutes.
Gourmet tip
Serve this dish with a green salad.
You can choose flavoured raclette according to your taste (plain, Italian, chilli, curry…).