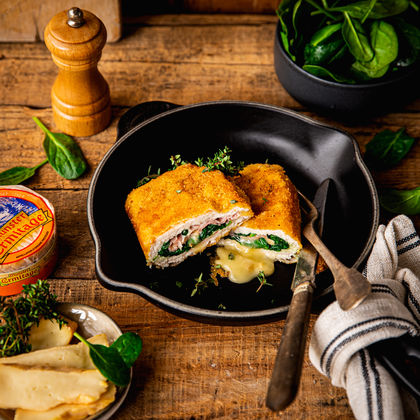 Cordon bleu with Munster cheese and spinach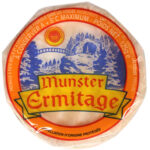 Ermitage cheese used : Munster
Ingredients
100g of Munster Ermitage

4 turkey cutlets

4 slices of white ham

200g sprouts spinach

A little bit of butter

2 eggs

70g of wheat flour

100g of breadcrumbs

A little bit of Salt

Pepper

optional: 1 clove of garlic

optional: fresh thyme
Preparation
Quickly fry the spinach in a buttered pan, add a little salt and set aside.
Prepare three soup plates: one with the flour, one with the 2 beaten eggs seasoned with salt and pepper and the last with the breadcrumbs.
Place the cutlets between 2 sheets of baking paper and lightly tap them with a rolling pin to tenderise them.
Season one side of the cutlets with salt and pepper. Spread the spinach over the cutlets, place a slice of ham on top and then a slice of Munster cheese weighing about 30 g. Fold the stuffed cutlets in half.
Roll them in the flour and pat off the excess. Then dip them in the beaten eggs and coat them with breadcrumbs.
Heat a frying pan with butter and a dash of olive oil. Add the garlic clove and thyme and leave to infuse until the butter has melted.
Brown the cordon bleus. Allow 5 minutes per side over medium heat.
Gourmet tip
Serve quickly with a baby spinach salad, homemade mashed potatoes or some chips.
You can also use chicken cutlets instead of turkey cutlets.