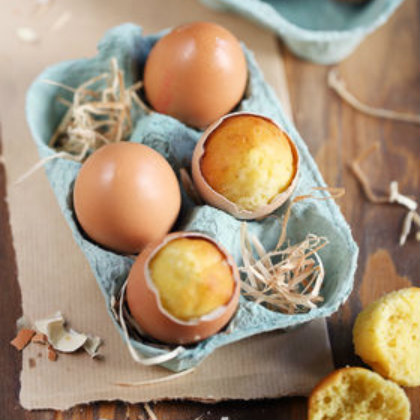 Chicken egg cake with Munster cheese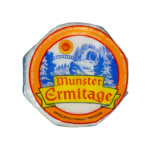 Ermitage cheese used : Munster
Ingredients
100g of Munster Ermitage

1 jar of natural yogurt

3 pots of yoghurt wheat flour

½ cup of yoghurt olive oil

1 bag of baking powder

3 + 12 eggs

A pinch of Salt

Pepper

1 litre of water with 100g of coarse powder Salt
Preparation
Preparing the shells
Using a pin, pierce the bottom of the 12 eggs to form a dotted circle. At this point, break the shell and make a hole 1-1.5 cm wide. Get rid of the white and yolk.
Wash the shells in hot water.
Immerse the shells completely in salt water and leave to soak for 30 minutes. Use a small plate to make a weight.
Place the shells, opening downwards, on paper towels and leave to dry.
Preparing the cakes
Pour the yoghurt into a bowl and clean the pot to measure the other ingredients.
Add the eggs and mixture.
Add the flour and yeast. Add salt and pepper. Mix with a whisk.
Finish with the olive oil. Mix and taste to adjust the seasoning.
Pour the dough into a blender and add the diced Munster cheese. Mix.
Oil the inside of the shells, remove the excess and pour the cake batter halfway up.
Place the shells in small muffin tins to keep them upright.
Preheat your oven to 180°C (gas mark 6) and bake for about 15 minutes.
Allow to cool before serving.