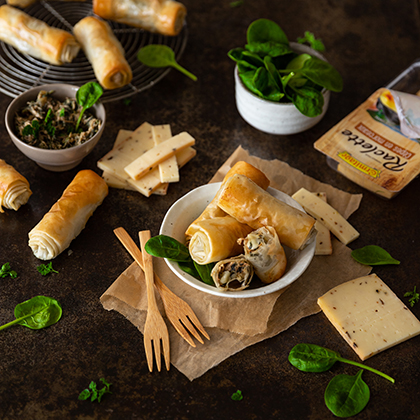 Chicken and spinach heart cigars with porcini mushroom raclette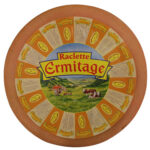 Ermitage cheese used : Raclette and raclette cheese
Ingredients
15 slices of Ermitage raclette cheese with porcini mushrooms

2 fine fillets of chicken

1 glass of dry white wine

1 glass of chicken broth

1 onion

2 cloves of garlic

1 bouquet garni

700g of spinach

10g of wheat flour

15cl of milk

15 sheets of phyllo dough

Salt

Pepper
Preparation
Fry the chicken fillets in a cast iron pot until they are coloured, season with salt and pepper.
Fry the onion and chopped garlic for 1-2 minutes. Pour in the white wine and chicken stock (do not cover the chicken fillets completely) and the bouquet garni. Cook over a low heat for 2.5 hours, stirring regularly so that the mixture does not stick.
Remove the chicken fillets from the pot, shred with a fork and reduce the juices until almost syrupy. Add the shredded fillet and set aside.
Fry the spinach leaves in a pan with a dash of olive oil for 5 minutes. Drain them, holding them in your hands so the mixture does not become too wet. Chop them coarsely and add them to the shredded chicken.
Make a béchamel sauce: melt 15g of butter in a saucepan, add the flour and cook while stirring without letting it brown.
Add the hot milk a little at a time and allow it to thicken. Season and add to the chicken/spinach mixture.
Cut each slice of porcini raclette cheese into 4 sticks.
Melt 60g of butter. Take a sheet of filo pastry and place a tablespoon of chicken filling 3cm from the edge of the sheet. Place 2-3 sticks of porcini raclette cheese on top, fold over the sides of the filo sheet and roll into cigars.
Brush with melted butter. Repeat until you have used all the filo pastry.
Bake in the oven for 15 minutes at 200°C (gas mark 7), or in a frying pan until golden on all sides.