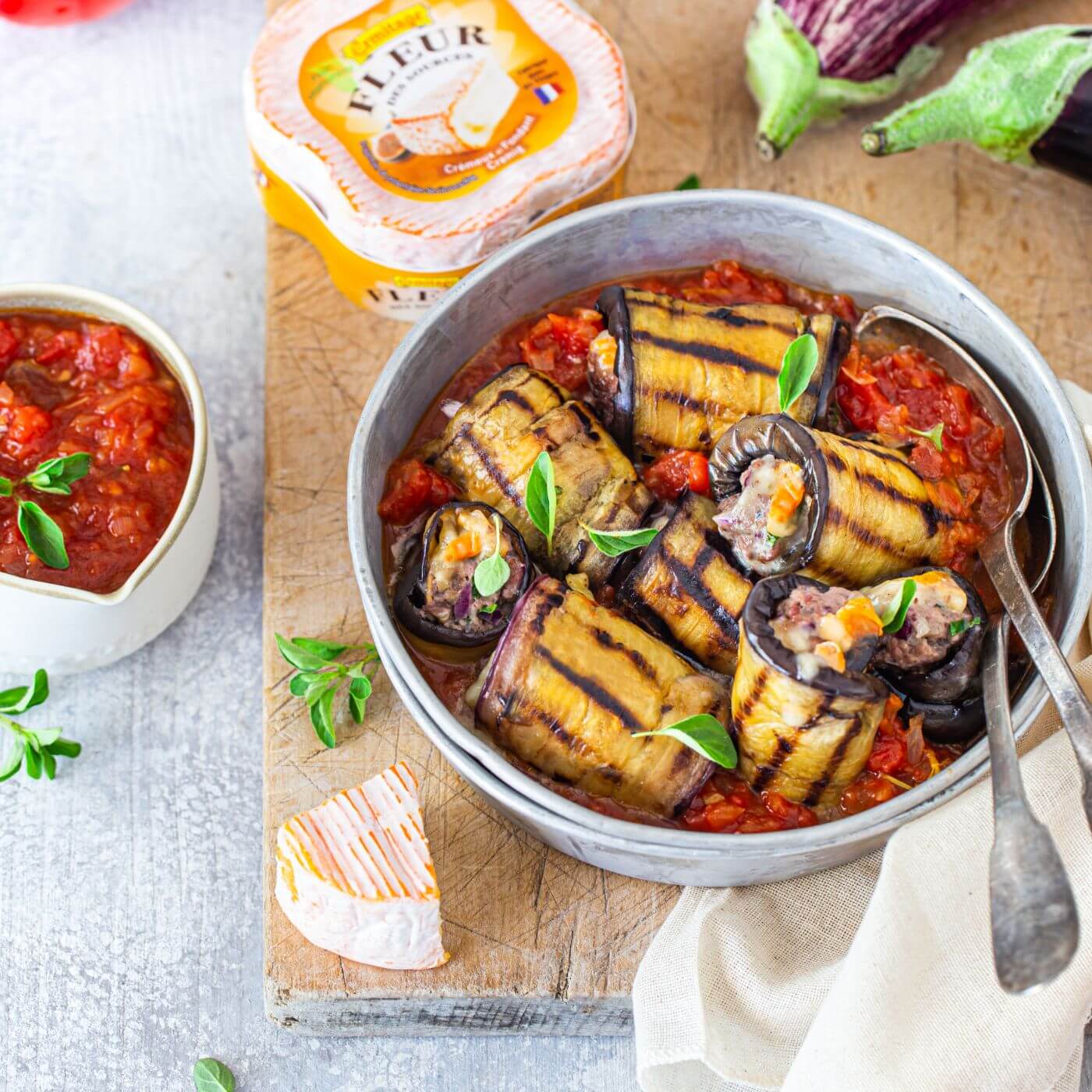 Aubergine cannelloni with meat and Fleur des Sources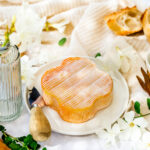 Ermitage cheese used : Fleur des Sources
Ingredients
150g of Fleur des sources

500g of tomatoes

2 onions

4 cloves of garlic

A little bit of olive oil

1 teaspoon of granulated sugar

A little bit of oregano

Leaves of fresh basilic

Some fresh thyme

1 sheet of laurel

Salt

Pepper

5 beautiful eggplants

400g of ground beef

100g of soft bread

100g of milk
Preparation
For the tomato sauce: boil a pot of water. Make a small cut in the base of the tomatoes with a knife. Plunge the tomatoes into boiling water for 30 seconds, then plunge them into cold water so that the skin easily peels away.
Cut the tomatoes into small cubes. Finely chop the onion and press 2 cloves of garlic. Fry the garlic in a pan with a dash of olive oil for 2-3 minutes. Add the chopped onion and fry until it starts to colour. Add the tomatoes and season with sugar, salt and pepper. Add a few sprigs of fresh thyme and a bay leaf. Simmer for a good hour on a low heat. Your sauce should have confited. Once cooked, adjust the seasoning and add the finely chopped fresh herbs (basil and oregano).
Preheat the oven to 180°C (gas mark 6)
Cut aubergine slices lengthwise about 7-8mm thick. Brush the aubergine slices with oil and lightly salt them. Cook the slices under a grill or in a frying pan. Put to one side.
Soak the breadcrumbs in the milk. Mix the minced meat with the breadcrumbs and milk, a finely chopped onion, 2 cloves of chopped garlic, a dash of olive oil, salt, pepper and chopped oregano.
Cut the Fleur de Sources into slices the width of the grilled aubergine slices. Place a large tablespoon of minced meat on a slice of aubergine and cover with a slice of Fleur de Sources. Roll the aubergine into cannelloni.
Repeat. Place the cannelloni in an ovenproof dish and bake for 25-30 minutes.
Arrange the cannelloni on plates with the tomato sauce.