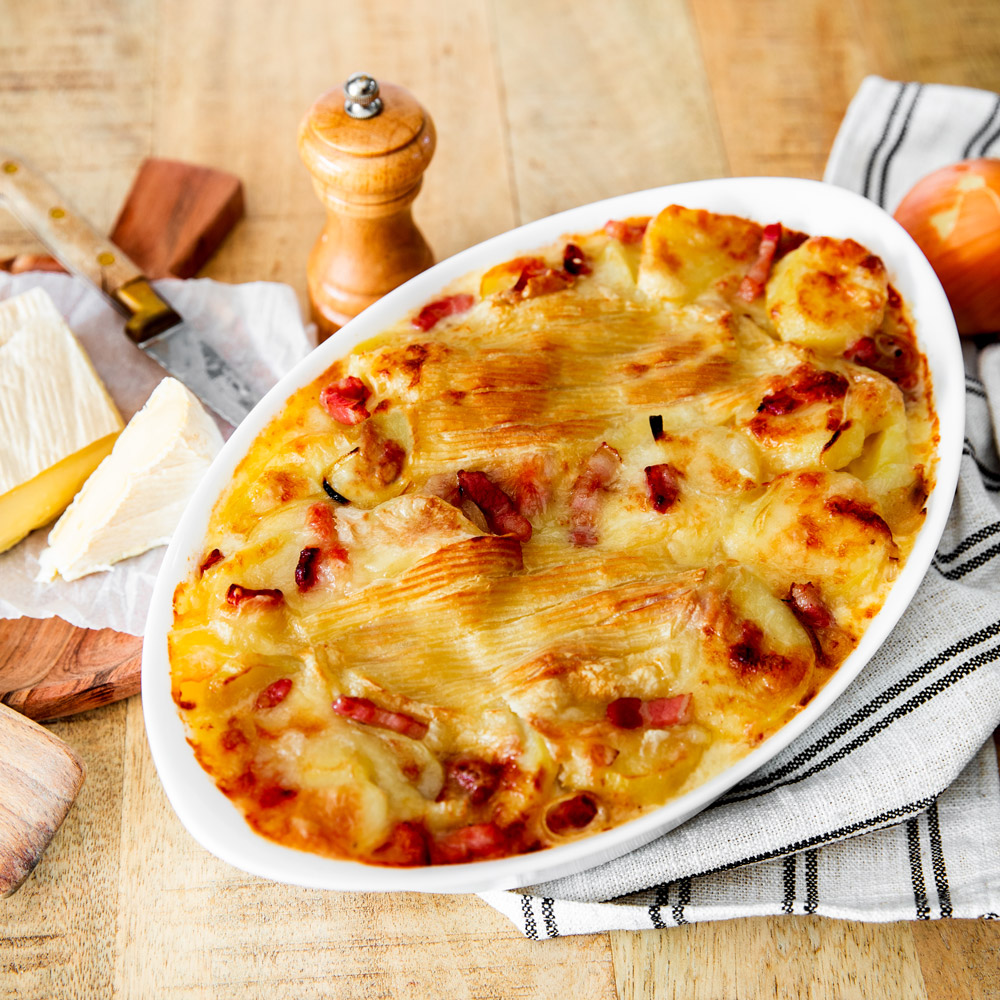 Tartiflette cheese
Enhancing moments of pleasure and togetherness!
The Ermitage Tartiflette cheese range can be prepared in a thousand and one ways, in the oven or frying pan.
A simple and tasty meal, a guaranteed treat. The smooth Ermitage Tartiflette cheese makes this recipe a real success.
To be enjoyed both cold and hot: as a tartiflette or in your everyday recipes like risottos and gratins, it is sure to awaken your taste buds. Find recipe ideas on the packaging.
What's more, Original Tartiflette cheese is suitable for vegetarians!
Cook in the oven or in a frying pan if you are in a hurry, it's just as good and much faster!
Available in family size as 450g and for two people as 250g.
Available in Character or Forest versions, for distinctly different tastes
Cheese made from pasteurised milk.
Read more
Nutritional information
Ingredients
Nutrition Information
Ingredients
Cheese for Original Tartiflette : Milk, salt, ferments (including milk), microbial coagulant.
Cheese for Character Tartiflette : Milk, salt, ferments (including milk), rennet, colouring (rind): annatto norbixin
Cheese for Forest Tartiflette : Milk, 2% dehydrated forest mix (66% mushrooms (boletus, chanterelle), browned onion, browned garlic, sunflower oil, antioxidant: E392, natural cep flavour, rosemary extract), salt, ferments (including milk), microbial coagulant, flavouring
Nutrition Information
Per 100g:
Cheese for Original Tartiflette
Energy: 1356 kJ / 327 kcal
Fat: 27g of which saturates: 19g
Carbohydrates: 1.0g of which sugars: 1.0g
Protein: 20g
Salt: 1.30g
Cheese for Character Tartiflette
Energy: 1356 kJ / 327 kcal
Fat: 27g of which saturates: 19g
Carbohydrates: 1.0g of which sugars: 1.0g
Protein: 20g
Salt: 1.40g
Cheese for Forest Tartiflette
Energy: 1299 kJ / 313 kcal
Fat: 25g of which saturates: 17g
Carbohydrates: 3.0g of which sugars: 1.0g
Protein: 19g
Salt: 1.30g