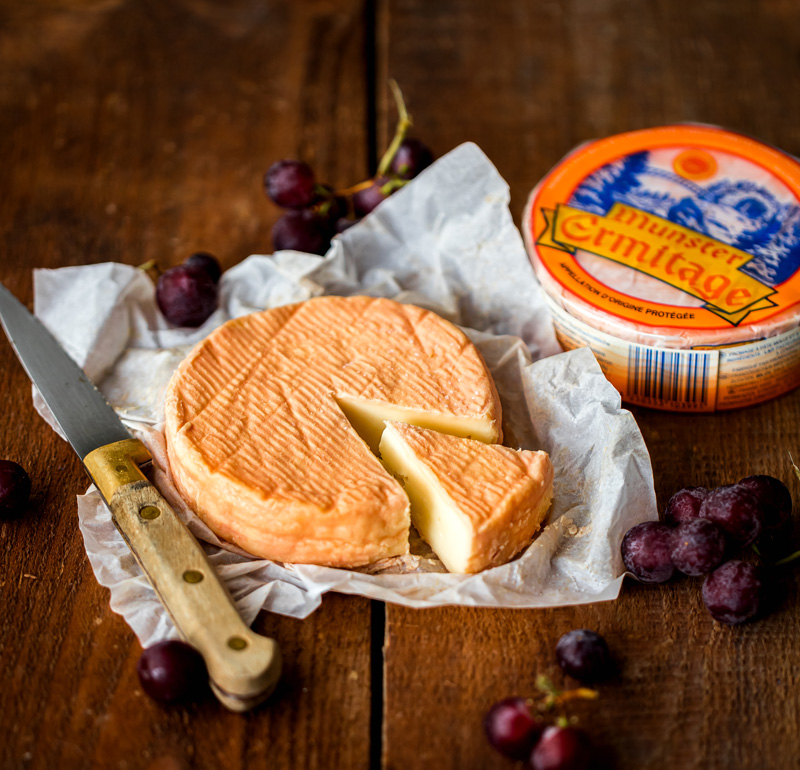 Munster
A creamy cheese with an orange rind, with character that has survived centuries.
Munster or Munster Géromé, two names for the same cheese.
In the 7th century, monks in the Munster valley invented it to preserve milk and feed the population. This soft cheese with a washed rind has survived centuries without losing any of its character.
Ermitage Munster PDO is made from cow's milk from the Vosges mountains. The maturing period varies from 14 days to several weeks depending on the weight of the Munster cheese. Regularly rubbed and washed, it develops a beautiful orange colour, and the cheese softens to become creamy.
Ermitage Munster
Ermitage, the leading manufacturer of Munster cheese, offers the complete range, available pre-packaged and by the slice (from 125g to 1.5kg).
You can enjoy Ermitage Munster hot or cold, in a thousand and one ways: as an canape, with a meal, on a cheese board. Its soft texture and its small chalky heart will seduce you! There is also a cumin variety, traditional to the Vosges region. It is a pasteurised milk cheese.
Ermitage Munster, a small cheese with a big heart!
Munster Rémy Rudler
Munster Rémy Rudler is available in a 200g pre-packaged quantity.
Munster Le Rochesson
A farmhouse Munster with raw milk is now sold under the brand name Le Rochesson.
Read more
Our medals
Lyon International Competition 2021: Silver Medal for Munster 750g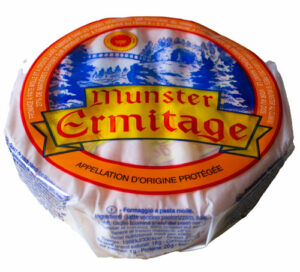 Nutritional information
Ingredients
Nutrition Information
Ingredients
Milk, salt, ferments (including milk), rennet.
Nutrition Information
Per 100g:
Energy: 1356 kJ / 327 kcal
Fat: 27g of which saturates: 19g
Carbohydrates: 1.0g of which sugars: 1.0g
Protein: 20g
Salt: 1,60 g, 1.80 for the format 200 g, 1.60 g for the format 125, 500 and 750 g and 1.7 g for the format 1.5 kg