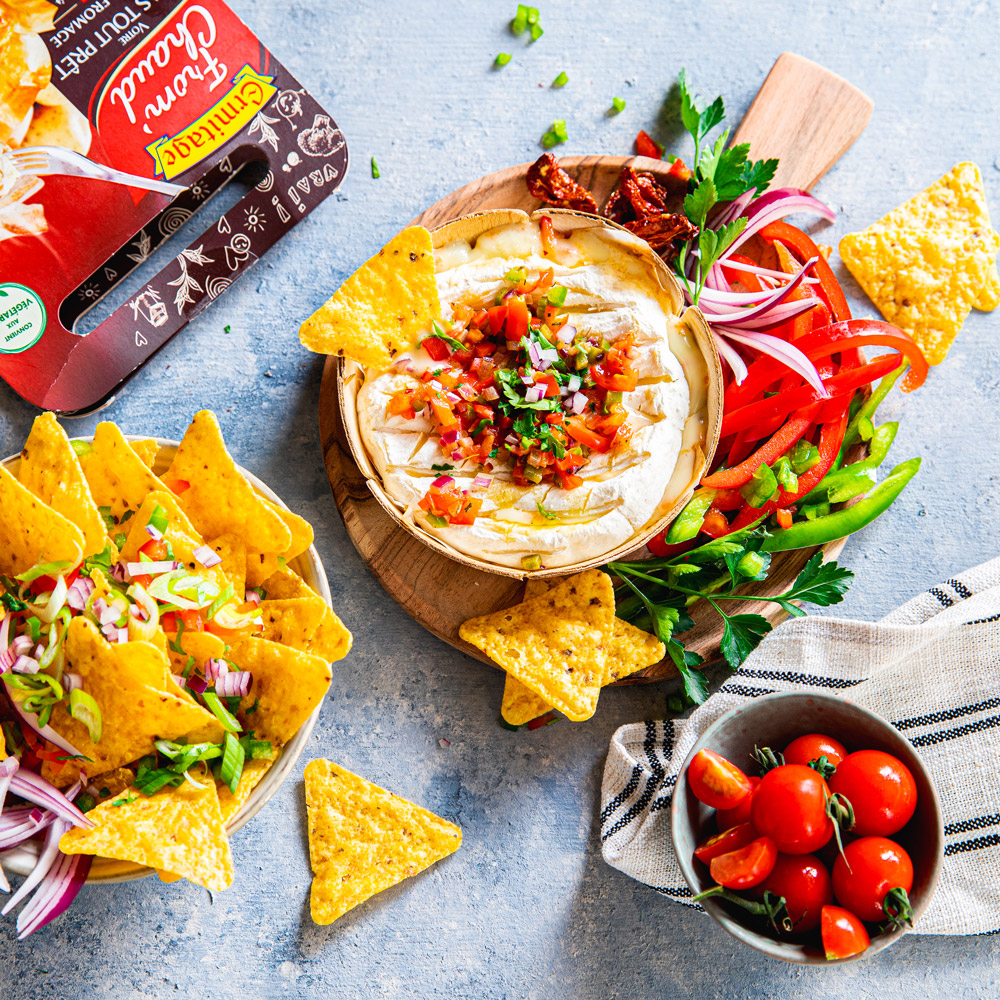 Mexican Style From'Chaud Dips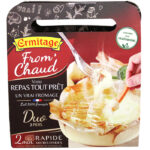 Ermitage cheese used : From'Chaud
Ingredients
200g cheese From' Chaud

1/2 red bell pepper

5 cherry tomatoes

1 onion

1/2 sweet pepper

1 clove of garlic

Some butter

1 tablespoon of liquid cream

Some cumin

A little bit of fresh coriander

A little bit of Fresh parsley

Pepper

Salt
Preparation
Preheat the oven to 190°C.
Clean the vegetables and herbs thoroughly.
Chop the peppers, tomatoes and spring onion (bulb and half of the chives) very finely. Chop the garlic clove and the jalapeños. Chop a few leaves of fresh coriander and parsley.
Heat a frying pan. Add a knob of butter and sweat the chopped onion. Add the peppers, fry lightly and then add the garlic clove, a little chilli, cumin and cherry tomatoes. Fry for a few minutes with one or two tablespoons of water. Season with salt and pepper. Set aside half of the mixture. Add the crème fraiche to the other half and cook for 3 to 4 minutes.
Remove the From'Chaud from its packaging. Cut into 2 discs, place the tomato/pepper/cream mixture on the base of the From'Chaud, add a little fresh coriander, and reseal the From'Chaud with the second disc. Put back in the box (do not forget to replace the paper, cut on the edges). Score the From'Chaud with a knife and add a dash of olive oil.
Bake for 10-15 minutes.
Remove the From'Chaud from the oven and place the remaining tomato/pepper mixture on top. Add finely chopped red onion for added crunch. Sprinkle with finely chopped coriander and parsley.
Gourmet tip
Serve immediately with tortilla chips!